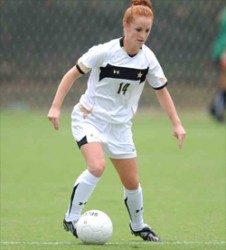 Athletics will offer day camp and residential camp options for athletes from 5-15 years of age.
June 6-10 Day Camp I
June 20-24 Day Camp II
The Day Camp is designed specifically for players learning the fundamental skills of soccer. Individual instruction emphasizes the use of correct techniques. The learning environment is enhanced with small-sided games which guarantee personal involvement, as well as team concepts. Since each camper is required to have his/her own ball, much of the time is spent perfecting the newly acquired skills.
Campers can choose a half day from 9 a.m. to noon, or a full day from 9 a.m. to 3 p.m. Cost is $175 for the half day and $235 for the full day. Lunch is included in the tuition.
July 17-20 Girls Residential Camp
The Elite Residential Camp is designed to improve the skill level and tactical understanding of all players. Practice sessions will be intense and very competitive to challenge every level of the player's ability.
Camp begins at 2 p.m. on Sunday and ends at 4 p.m on Wednesday. Cost is $495 for overnight campers and $400 for commuters. Meals are included.
Register today at www.vucommodores.com.
Contact: Derek Greene, (615) 343-8095