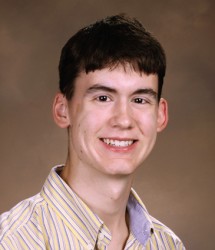 The Vanderbilt community is invited to a memorial service for sophomore Kevin Putney 3 p.m. Friday, April 1, in Benton Chapel.
Putney died March 29. From Farmington, Conn., Putney was a sophomore in the School of Engineering, majoring in computer science and mathematics. He was an active member of Wilskills and enjoyed caving and canoeing.
"(Kevin) made many friends at Vanderbilt and will be sorely missed by the students, faculty and staff who knew him," Dean of Students Mark Bandas wrote in an email to the Vanderbilt community.