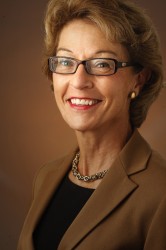 Christine Bradley, assistant vice chancellor for Community and Government Relations, was recognized March 31 with the 2011 Athena Award.
For 20 years, the ATHENA Award and Scholarship Program has been honoring outstanding women of Nashville for their skills in business, leadership and service to their community.
Through a collaborative effort between local women's organizations, local businesses and individual sponsors, the ATHENA Award and Scholarship Program encourages women of all ages to achieve excellence, whether it be professionally, academically or personally.
Bradley, one of 28 nominees this year, was sponsored for the award by the Nashville Women's Breakfast Club.
"Christine Bradley is a unique business leader and women's role model as proven by the remarkable and repeated results she has delivered in the upper echelons of diverse arenas: state and local government, private enterprise and education as well as community service," said Elizabeth Surface, president of the Nashville Women's Breakfast Club.
Bradley came to Vanderbilt in 2007 from the Nashville Career Advancement Center, where as executive director she has led a number of regional workforce development and economic development initiatives, including assistance to more than 840 women each year.
Before joining the NCAC, Bradley was state director of operations for Camelot Care, a provider of mental health services, where she worked on a wide range of service delivery and policy issues.
She served as chief of staff to Mayor Phil Bredesen from 1995 to 1998 while the city was growing to include a new museum, a professional football team and a state-of-the-art arena. Bradley served as Bredesen's advocate with the Metro Council, the State Legislature, federal officials, business leaders and the nonprofit community.
She previously served as the first female Commissioner of Corrections for Tennessee, where she oversaw the state prison system and received the first CEO Award presented by the American Correctional Association.
An active participant in community affairs, Bradley is a graduate of both Leadership Nashville and Leadership Middle Tennessee. Bradley earned a doctor of education in educational leadership from Tennessee State University, a master's degree in guidance and personnel from St. Bonaventure University in New York and a bachelor's degree in education from Bowling Green State University in Ohio.