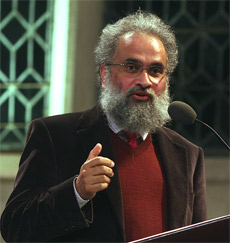 A leading economic and cultural historian who focuses much of his research on South Asia and the comparative history of early modern empires will deliver the 2011 Byrn Lecture on April 6.
Sanjay Subrahmanyam, the Navin and Pratima Doshi Chair of Indian History at UCLA, will speak at 4:15 p.m. in the Moore Room of Vanderbilt Law School. His lecture is titled "Before Orientalism: From Paris to Patna in the 17th Century."
Subrahmanyam, who is the author or co-author of nine books, received his doctorate from the Delhi School of Economics in 1987. He began his career with a study of South India, writing The Political Economy of Commerce: Southern India, 1500-1650 (Cambridge, 1990). Other books include The Portuguese Empire in Asia, 1500-1700: A Political and Economic History (Longman, 1993) and the two-volume Explorations in Connected History: From the Tagus to the Ganges and Mughals and Franks (Oxford, 2004).
"We are fortunate to have one of today's most influential historians of South Asian and world history come to speak to us on some of his latest research," said Samira Sheikh, assistant professor of history at Vanderbilt.
Subrahmanyam, who has held professorial positions at the Delhi School of Economics, the Ecole des Hautes Etudes en Sciences Sociales and the University of Oxford, is a regular contributor to the London Review of Books. He was elected to the American Academy of Arts and Sciences in 2009.
The Byrn Lecture is sponsored by the Vanderbilt Department of History. Video of the lecture will be available after the event at http://news.vanderbilt.edu. For more information, call 615-322-2577.