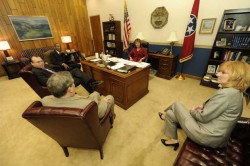 Vanderbilt's 10th Day on the Hill offered state legislators the chance to learn about the wide-ranging impact of the university and the medical center on all 95 counties in Tennessee.
"Day on the Hill offers the Vanderbilt community the opportunity to continue to build vital relationships with our state leadership," said David Mills, associate director, state policy and legislative affairs.
The day began with an early breakfast for the entire General Assembly hosted by Community, Neighborhood and Government Relations in the Legislative Plaza cafeteria. Jeff Balser, vice chancellor for health affairs, Beth Fortune, vice chancellor for public affairs, C. Wright Pinson, deputy vice chancellor for health affairs, and Paul Sternberg, assistant vice chancellor for adult health affairs, were among those on Vanderbilt's leadership team greeting lawmakers from across the state.
Other administrators meeting legislators included Warren Beck, director of finance at Vanderbilt University Hospital, Linda Norman, senior associate dean for academics in the School of Nursing, and Marilyn Dubree, associate dean for clinical practice in the School of Nursing.
Ninety-five banners highlighting Vanderbilt's specific contributions to each county decorated the walls of Legislative Plaza. In addition, each legislator was given an updated booklet that provides a detailed "by the numbers" comprehensive analysis of what Vanderbilt contributes to each county – with figures ranging from the number of alumni and families of Vanderbilt students living in each county to how much uncompensated care is provided by the medical center that same county.
"We want to convey to the legislators, many of whom are new this session, the importance of Vanderbilt across the entire state, not just in Middle Tennessee," said Christine Bradley, assistant vice chancellor for Community, Neighborhood and Government Relations.
Jazz provided by area musicians that included Michael Rinne, a 2010 Blair School of Music graduate, added to the festive atmosphere of Vanderbilt Day on the Hill.