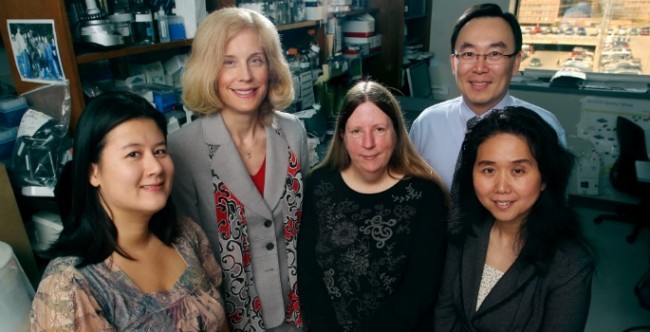 A new study by Vanderbilt-Ingram Cancer Center investigators reveals that a gene signature may be useful in predicting outcomes for patients with rhabdomyosarcoma, a form of cancer most commonly diagnosed in children.
The study, carried out by first author Jennifer Rosenbluth; Jennifer Pietenpol, professor of biochemistry, cancer biology and otolaryngology and director of VICC; Deb Mays, senior research specialist, Department of Biochemistry; Aixiang Jiang, assistant in biostatistics; and Yu Shyr, professor of biostatistics and preventive medicine, was published in a recent issue of the Proceedings of the National Academy of Sciences.
In addition to her work in the Pietenpol laboratory, Rosenbluth is a Vanderbilt Canby Robinson Society Scholar who is completing her medical degree this semester.
Focus on p53 protein family
The investigators studied p73, a transcription factor that binds to DNA and can activate hundreds of genes at a time. Rosenbluth said p73 has been difficult to understand because it has so many variants in its protein sequence and early studies had linked it to both cell survival and cell death.
"P73 belongs to the same protein family as p53, one of the most frequently mutated genes in human tumors," Rosenbluth explained.
The p53 protein family has been a long-standing research focus of the Pietenpol laboratory.
"Previous studies had implicated the p53 family as a possible factor in the development of rhabdomyosarcoma and we wanted to determine how p73 might be functioning in those tumors by examining its interaction with an upstream regulator," said Rosenbluth.
Genome-wide study
The VICC investigators decided to undertake a genome-wide study of p73 to comprehensively determine which sites it is binding and which genes it is regulating under various conditions.
"In previous studies, we had shown that mTOR regulates p73 and that's important because mTOR is a kinase that regulates cell survival, cell growth and cell response to nutrients. We know that mTOR is activated in human tumors and inhibits p73. So that may be a mechanism by which these cancer cells are preventing p73 from functioning," Rosenbluth said.
The mTOR-p73 connection in rhabdomyosarcoma tumors had never been studied, according to Pietenpol. By analyzing human cells from two different tumor types of rhabdomyosarcoma, the investigators found that their newly identified mTOR-p73 gene signature could be used to predict patient survival and outcome in those tumors traditionally associated with a worse prognosis.
"This is the first time that anyone has shown that a p73 signature could be used to predict patient outcome in a specific tumor type," Rosenbluth explained.
"[rquote]Our hope would be that molecular signatures such as this one could be used to predict patient outcome and perhaps predict how patients will respond to treatments such as mTOR inhibitor drugs," Rosenbluth said.[/rquote]
Finding new treatments is crucial for some of these cancer patients.
"Rhabdomyosarcomas can be difficult to treat and finding new molecular targets for these types of tumors is an important goal," Pietenpol said.
The investigators said further studies on tumor material from larger patient cohorts are needed to confirm and extend these results.
This research was supported by grants from the National Institutes of Health, the National Cancer Institute and the U.S. Army Medical Research and Materiel Command.
Learn more about how basic research is being translated into "personalized cancer medicine" at Vanderbilt.