Vanderbilt writer Alice Randall accepted for Yaddo residency
by
Jim Patterson
Mar. 24, 2011, 1:35 PM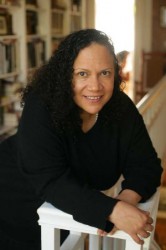 Artist retreat nurtures the creative process
Vanderbilt professor Alice Randall will spend a month this summer at the famed Yaddo artists' community.
Writers including James Baldwin, Saul Bellow and Langston Hughes have done residencies at Yaddo, in Saratoga Springs, N.Y.
Randall, writer-in-residence in African American and Diaspora Studies at Vanderbilt, was accepted to work at the 400-acre Yaddo estate June 23 through July 24.
"I'm surprised and delighted," said Randall, author of the novels The Wind Done Gone, Pushkin and the Queen of Spades and Rebel Yell. "A month to work in the same rooms my heroes worked – Langston Hughes and Arna Bontemps and James Baldwin and Sylvia Plath and Carson McCullers – feels like the perfect balance to the school year where as part of the Vanderbilt community I am enriched by all the connections to students and colleagues and family."
The history of the Yaddo property stretches back to a tavern where many writers including Edgar Allan Poe dined in the 19th century. Rumor has it that Poe wrote part of The Raven at the tavern. Yaddo was founded in 1900 by financier Spencer Trask and his wife Katrina to nurture the creative process.
Writer John Cheever once wrote that the "40 or so acres on which the principal buildings of Yaddo stand have seen more distinguished activity in the arts than any other piece of ground in the English-speaking community and perhaps the world."
Randall plans to spend her Yaddo residency revising her fourth novel, inFATuation, which draws on her research into soul food and research being done at Vanderbilt on personalized medicine.