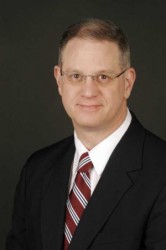 James Hudnut-Beumler has accepted a third term as dean of Vanderbilt University Divinity School.
The reappointment keeps Hudnut-Beumler as the leader of one of only four university-based interdenominational institutions in the United States, and the only one in the South. The new appointment lasts until June 30, 2013.
"Jim has been a close friend and a valued colleague," said Richard McCarty, provost and vice chancellor for academic affairs. "I have come to depend upon him for his advice and counsel in matters large and small and I look forward to continuing our close working relationship."
Hudnut-Beumler, the Anne Potter Wilson Distinguished Professor of American Religious History, is a Presbyterian minister and author of several books including In Pursuit of the Almighty's Dollar: A History of Money and American Protestantism, Looking for God in the Suburbs: The Religion of the American Dream and Its Critics, 1945-1965 and Generous Saints: Congregations Rethinking Money and Ethics.
Prior to coming to Vanderbilt in 2000, he was dean of the faculty at Columbia Theological Seminary, a program associate for Lilly Endowment, and a director of the undergraduate program in Public and International Affairs at Princeton University.
"I look forward to continuing to lead our school at this important juncture in its life and at this moment in religious life globally," said Hudnut-Beumler. "[rquote]The best part of being dean of this divinity school is working with the talented students, graduates, and scholars, all of whom are making a difference in religious life through their intelligence, integrity and commitment.[/rquote]"
Vanderbilt Divinity School exists to engage men and women in a theological understanding of religious traditions; to help persons, both lay and ordained, re-envision and prepare for the practice of Christian ministry in our time; to encourage individuals in their spiritual and intellectual growth; to prepare leaders who will be agents of social justice; and to educate future scholars and teachers of religion.