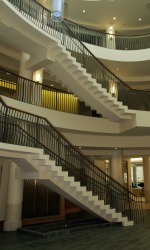 Plans by Vanderbilt University's College of Arts and Science to build out the third floor of The Commons Center will enable the entire Department of Political Science including its flagship research centers to be housed under one roof starting this fall.
The Vanderbilt Board of Trust recently approved the 19,000-square-foot project scheduled for completion in early August, according to Carolyn Dever, dean of the College of Arts and Science. "This is the realization of an important part of the original vision of The Commons to be a truly integrated living and learning environment for Vanderbilt students and faculty," Dever said.
Included in the move to The Commons Center will be the Center for the Study of Democratic Institutions, the Latin American Public Opinion Project and the Research on Individuals, Politics and Society Lab.
The Center for the Study of Democratic Institutions recently launched the Vanderbilt Poll, which is taking periodic readings of the opinions of Tennessee citizens on key state and national issues, thereby informing the broader debates over public policy.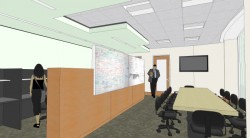 The Latin American Public Opinion Project is a leader in the development, implementation and analysis of public opinion surveys. Since the 1970s, it has gathered a treasure-trove of databases containing political perspectives from Latin America.
The Research on Individuals, Politics and Society Lab, which began in 2009, seeks to advance empirical research in political behavior while also enriching the learning environment for the faculty, graduate students and undergraduate students.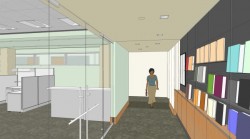 "We are excited about the move and so grateful to Dean Dever for this opportunity," said John Geer, Distinguished Professor of Political Science and chair of the department. "Having everyone on one floor offers the chance for increased collaboration and synergy among faculty and students. And as an intellectual hub on campus, The Commons provides a wonderful setting for us to do our teaching and research."
The Commons Center, which houses a dining hall, living room, workout room, meeting and study spaces, has received a Gold LEED certification from the U.S. Building Council. Vanderbilt will be seeking Gold LEED certification for the new addition to the three-year-old building, which already has energy-efficient mechanical systems, low-flow toilets, a recycling program and numerous other environmental features.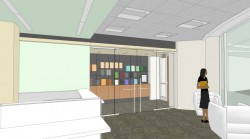 Plans call for 46 new offices to line the perimeter of the building's third-floor atrium, said Hans Mooy, architect and project manager with Campus Planning and Construction. "There will be another 20 smaller interior offices that will form an interior corridor with classrooms, graduate student carrels and work area and conference rooms."
John TeSelle of John TeSelle Architecture has been selected as the project architect, while John Olert of Olert Engineering and Wendell Barnett of iDesign Services are the project engineers.  Hardaway Construction will serve as construction manager and Dominique Arrieta of Gobbell Hays is the LEED Consultant.