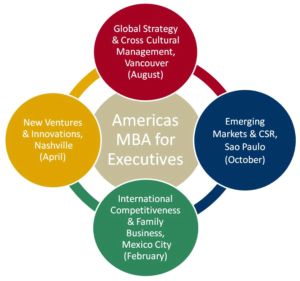 Four widely respected graduate business schools in North and South America are partnering to offer an innovative new Master of Business Administration program for international executives starting in August 2011.
Called the Americas MBA for Executives, the two-year degree program provides 60 students with the opportunity to study management issues in each of the four largest economies in the Americas.
Participating schools include:
The program grew out of recognition that global businesses are increasingly aligning their operations around all of the Americas, not just particular regions such as Central, North and South. It also responds to a growing need among companies and students for business instruction focused more deeply around issues specific to the Americas markets.
"Free trade has opened many exciting new opportunities throughout the Americas in recent years. Since Vanderbilt's first Executive MBA trip to Mexico City in 1997, we have watched our client (sponsoring) companies move from distinct divisions in North America and Latin America to a comprehensive Americas approach," said Tami Fassinger, associate dean of executive programs at Vanderbilt's Owen Graduate School.
"This is a program that recognizes the growing prominence of the Americas as a cohesive economic entity," said Colleen Collins, associate dean of graduate programs at SFU's Beedie School of Business. "We have brought the top scholars in cross-cultural management, global competitiveness, emerging markets and new ventures together to give students a unique perspective on international management."
How the Americas program works
The highly selective program begins with each school assembling no more than 15 students to participate in the Americas MBA curriculum. During their first year, students will remain at their home school as part of its executive or part-time MBA program. Then during the second year, students from all four schools will be grouped together in cross-cultural study teams, which will embark on a yearlong, global capstone strategy project. The teams will also rotate together to each campus to engage in class work, local business practices, cultural events, as well as have face-to-face time for their project work. Each school will offer programming that draws on its core strengths:
First in Canada, the Americas MBA candidates will take on cross-cultural communications, human resource management and business strategy. The study groups will also begin their yearlong capstone project here.
Next they go to Brazil, where the Americas MBA students will learn about sustainability, how global markets operate and bottom-of-the-pyramid product development.
From there it's on to Mexico City, where the Americas MBA participants tackle the topics of international trade, and learn how to navigate the large family-owned businesses that are prevalent in the region.
The Americas MBA students will spend their final on-campus visit in the U.S. focused on launching ventures and how to nurture innovation.
While the schools all provide a similar level of academic rigor and share a common educational philosophy, each institution will determine admission and tuition requirements for its Americas MBA program applicants. Classes and coursework will be in English, though applicants with foreign language skills and international business experience will be given preference.
Upon completion of the program, students will receive a joint "Americas MBA" certificate awarded by the group of four schools, in addition to the degree conferred by their home school.
"[rquote]This program is all about taking a deep dive into the Americas, which is an increasingly important market for rising executives[/rquote]," Fassinger said. "The Americas certificate from four top universities, on top of an MBA from a leading university in the region, is the icing on the cake to help our Americas MBA graduates be successful in ex-pat roles anywhere in the Americas."
About the schools
FIA Business School created the first Executive MBA in Brazil in 1993, and has the only fully Brazilian Executive MBA ranked among the best in the world by the Financial Times. Accredited by the London-based Association of MBAs (AMBA), FIA was chosen in December 2010 as "the Most Innovative Business School in South America," by European CEO Magazine.
ITAM, Instituto Tecnológico Autónomo de México was the first Latin American business school accredited by AASCB, and is one of fewer than 50 schools also to have accreditation from EQUIS and AMBA. With a world-class research institute in finance and economics, it is among the best business schools in Latin America as ranked by America Economia, and has been a leading player in Mexico's executive education space for more than three decades.
Simon Fraser University's Beedie School of Business is home to Canada's first Executive MBA program, founded in 1968. Accredited by AACSB and EQUIS, the school is a global leader in international business teaching and research.
The Vanderbilt Owen Graduate School of Management is ranked as a top institution by Bloomberg Businessweek, The Wall Street Journal, U.S. News & World Report, Financial Times and Forbes. Accredited by AACSB and SACS, Vanderbilt's 60-credit, two-year EMBA Program started in 1978.