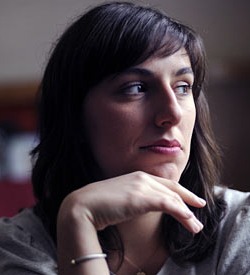 Called the "poster girl for third-wave feminism" by Salon and one of the Top 100 Inspiring Women in the world by The Guardian, Jessica Valenti will deliver the 24th annual Cuninggim Lecture on Women and Culture and Society Wednesday, March 16, at Vanderbilt University.
In her talk titled "The Purity Myth," Valenti will speak about what sex positivity would look like on a conservative college campus. The event, which is free and open to the public, begins at 6 p.m. and will be held in the ballroom of the Student Life Center.
Valenti is the author of three books – Full Frontal Feminism: A Young Woman's Guide to Why Feminism Matters, He's a Stud, She's a Slut…and 49 Other Double Standards Every Woman Should Know, and The Purity Myth: How America's Obsession with Virginity is Hurting Young Women, which is being made into a documentary by the Media Education Foundation. She is the editor of the anthology Yes Means Yes: Visions of Female Sexual Power and a World Without Rape, which was named one of Publishers Weekly's Top 100 Books of 2009. Jessica is also the founder of Feministing.com, which Columbia Journalism Review calls "head and shoulders above almost any writing on women's issues in mainstream media."
Her writing has appeared in The Washington Post, The Nation, The Guardian, The American Prospect, Ms. magazine, Salon and Bitch magazine. She has won a Choice USA Generation award, was featured as one of ELLE magazine's "IntELLEgentsia," and was named one of the Left's Top 25 Journalists by The Daily Beast.  She has appeared on The Colbert Report and the Today show, among others.
The Cuninggim Lecture on Women in Culture and Society was endowed in 1986 by a special university committee and named for Margaret Cuninggim, for whom the university's Margaret Cuninggim Women's Center is also named. Cuninggim was the fourth dean of women at Vanderbilt, serving from 1966 to 1973.
Speakers who have given previous Cuninggim Lectures include Daisy Hernandez, editor of Colorlines; Kelly Oliver, Alton Jones Professor of Philosophy at Vanderbilt; Sue Rosser, former dean of the Ivan Allen College of Liberal Arts at Georgia Tech and current provost of San Francisco State University, and Beverly Guy Sheftall, director of the Women's Research and Resource Center at Spelman College.
The Margaret Cuninggim Women's Center, which is part of the Office of the Dean of Students, serves the entire Vanderbilt community and offers several events and resources including Gender Matters, a program aimed to increase awareness of gender's influence in daily life. The program also provides individual support and advocacy around a variety of issues, such as gender stereotyping, gender equity, body image, eating disorders, pregnancy and reproduction, sexual health and more.
Project Safe, a support and resource referral hub for those affected sexual assault, partner violence, stalking and bias-related violence, is also based at the center. Through the Green Dot violence prevention campaign, center staff seeks to involve all members of the Vanderbilt community in creating a safer campus.
For more information on the lecture or the Margaret Cuninggim Women's Center, call (615) 322-4843.