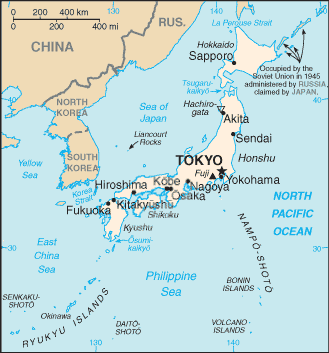 Vanderbilt is reaching out to those who may have been affected by the devastating earthquake and tsunami in Japan.
Currently there are no students studying in Japan through programs registered with the Vanderbilt International Office or the Global Education Office.
International Student and Scholar Services and the Office of Dean of Students are offering support to the at least 121 Japanese students, faculty, staff, visiting scholars and the family members of these individuals at  Vanderbilt.
"As a university community devoted to serving humanity, our work is based on hope. For our Japanese students, faculty and staff, I know this represents a time of uncertainty and challenge," Chancellor Nicholas S. Zeppos said.
"I want you to know that your Vanderbilt 'family' is here for you. Whether you need help with counseling or making contact with loved ones at home, the university stands ready to lend our full support. Our collective thoughts and concerns are with the people of Japan and with our students, faculty and researchers who have family members affected by the earthquake and tsunami," Zeppos said.
Members of the Vanderbilt community may contact International Student and Scholar Services for assistance at 615-322-2753 or at 614-378-1968.
Staff members of the Psychological and Counseling Center at 615-322-2571 and the Office of Religious Life at 615-322-2457 are available to speak with students about the disaster. Campus residents may contact the Office of Housing and Residential Education at 615-322-2591 for assistance.
Students needing assistance may always contact the Office of the Dean of Students at 615-322-6400 or deanofstudents@vanderbilt.edu.
The university has also asked  that members of the Vanderbilt community affected by or concerned about the disaster check in through the university's Facebook page.
Development and Alumni Relations is working to contact Vanderbilt alumni living in Japan. VUConnect, the university's online community for alumni, students and friends worldwide, currently shows 200 records for alumni with addresses in Japan.
This week is spring break for the university and several students are participating in service projects around the country and the world as part of Alternative Spring Break (ASB). The Office of the Dean of Students has been in contact with students doing service work in areas of Latin America that are under the Tsunami Center Warning Advisory. The students are taking precautions and the Dean of Students office has updated their families.
Of the two ASB student groups working in California – the Monterey group was moved to higher ground and the students in Los Angeles are inland and expected to experience limited effects from the tsunami. University officials have advised both groups and contacted their parents.
Professor James Auer, director of the Center for U.S.-Japan Studies and Cooperation at Vanderbilt, was scheduled to be in Japan, but delayed his trip. He is in Nashville.
Auer has close ties to Japan having served on four ships based in Japan while in the Navy. He was the first U.S. Navy officer to study at the Japan Maritime Self-Defense Force Staff College in Tokyo and from 1979 to 1988 served as the Special Assistant for Japan in the Office of the Secretary of Defense, acting as a bridge between the Japanese Defense Agency (now the Ministry of Defense) and the U.S. Department of Defense.
In 2008 he was honored by His Majesty the Emperor of Japan with the Order of the Rising Sun, Gold Rays with Neck Ribbon, in recognition of his outstanding contributions to the mutual understanding and friendship between Japan and the United States.
"I usually travel to Japan three or four times a year but typically do not make the trip between January and April because of classes. I had planned to go this week for spring break but had other commitments come up. It's a good thing I decided not to go because I don't know if I could have gotten back for my classes next week. I don't know what transportation is like there now," he said.
Auer also has a daughter who teaches at junior high and elementary schools in Japan. He and his wife reached her before dawn in Nashville which was shortly after the earthquake hit Friday afternoon in Japan. She had escaped the disaster unhurt.
"Fortunately the students at my daughter's school had gone home because the school year had ended and they had a graduation ceremony earlier before the earthquake hit. She was still at school – about 150 miles from the nearest coastline – and she said there was a great amount of shaking going on from the earthquake but she was able to eventually drive home," Auer said.
Zeppos and Provost Richard McCarty also contacted The Honorable Hiroshi Sato, Consul General of Japan to express their concern and support for his family, staff and the people of Japan.  Sato heads the Consulate-General of Japan in Nashville that in addition to Tennessee serves Arkansas, Kentucky, Louisiana and Mississippi.