Media Inquiries
Latest Stories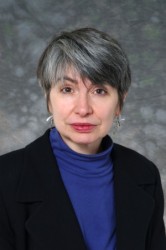 Theologian Catherine Keller will speak about the future of feminist theology at this year's Antoinette Brown Lecture at Vanderbilt Divinity School.
Keller, professor of constructive theology at The Theological and Graduate Schools of Drew University, speaks 7 p.m. Thursday, March 24, in Benton Chapel on the Vanderbilt campus at 411 21st Ave. S.
The lecture, "And Truth – so Manifold!: Transfeminist Entanglements" – is free and open to the public. It will be recorded for podcast and posted to the Vanderbilt News Service website.
The Antoinette Brown Lecture began in 1974 with sponsorship from Vanderbilt alumna Sylvia Sanders Kelly of Atlanta to honor Antoinette Brown Blackwell, who became the first ordained woman in America in 1853. Previous Antoinette Brown lecturers include Sallie McFague, Stephanie Paulsell, Amina Wadud and Sharon Welch.