Vanderbilt students' winning essays and video chronicle MLK Day experiences
by
Princine Lewis
Mar. 3, 2011, 2:24 PM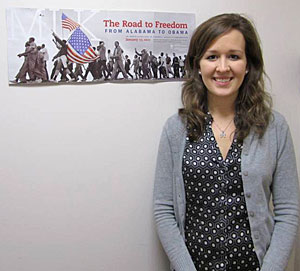 Vanderbilt University has recognized four students –Kirsten Ayers, Chelsea Goodly, Marwah Shahid and Ravi Singh – with a monetary award for excellence in capturing the spirit of the life and legacy of Martin Luther King Jr., through video and essays about their experiences on the MLK holiday.
The winning essays submitted by Goodly, Shahid and Singh, along with Ayers' winning video, were part of a new learning initiative, "Vandy Reflections: MLK Day 2011," created by The Office of the Dean of Students to further engage students in the commemoration. Students were encouraged to submit their writings, photos, videos and other creative expressions of MLK Day reflections.
MLK Day 2011 was historic for Vanderbilt as the university canceled classes for the first time on the holiday – using the day off from classes as a "day on" during which students performed community service, joined Nashville's annual citywide march and convocation and participated in a number of events planned by the university. The theme of the university's commemoration was "The Road to Freedom" and included a keynote address by civil rights leader and former NAACP Chairman Julian Bond, lunchtime roundtable discussions and teach-ins on King's legacy and a tour with local civil rights leader Kwame Lillard.