Noted photographer, environmental activist J Henry Fair talks 'Industrial Scars' March 1 at Vanderbilt University
by
Princine Lewis
Feb. 17, 2011, 1:57 PM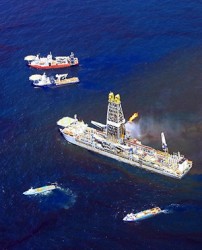 Noted photographer and environmentalist J Henry Fair will give a talk on and do a slide presentation of images from "Industrial Scars," his exploration of the detritus of consumer society through large-scale aerial photographs and documentary research, Tuesday, March 1, at 7 p.m. at Vanderbilt University.
The event is free and open to the public and will be held in Room 4309 of Stevenson Center on campus. Following Fair's talk, a reception and book signing will be held in the Center for Health Services located across from Stevenson Center.
Fair's recently published book, The Day After Tomorrow: Images of Our Earth in Crisis, features primarily aerial photography capturing such images as pools of toxic hog waste, the BP oil spill in the Gulf of Mexico, streams of paper mill runoff and the remains of mountain top removal.
A recent review of Fair's work in The New York Times highlighted his use of aerial photography – "it also makes possible panoramic vistas that convey the frightening scale of the destruction, creating the feeling that humankind has wrought its own form of irreversible natural catastrophe . . . But there is also a reductive side to this process: the expanses of color and texture in Mr. Fair's pictures often bring to mind slick, printed versions of Abstract Expressionist painting."
Fair's talk is sponsored by the Office of the Dean of Students, The Office of Active Citizenship & Service, the Center for Health Services, the Department of Earth & Environmental Sciences, American Studies and Students Promoting Environmental Awareness and Responsibility (SPEAR).