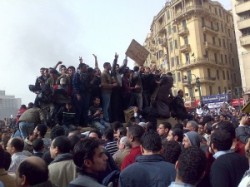 A panel of Vanderbilt University faculty members with strong expertise in issues involving the Middle East will come together on Thursday, Feb. 17, to discuss the significance of recent political uprisings in that region.
Panelists for the forum "Revolution in the Middle East!" are Katherine Blue Carroll, assistant professor of political science; Richard McGregor, associate professor of Islamic Studies; Beverly Moran, professor of law; and Thomas Schwartz, professor of history. Cherie Fathy, a junior in the College of Arts and Science, will serve as moderator.
The discussion, which is free and open to the public, will be held in the Sarratt Cinema from 4:10 to 6 p.m.
The huge street protests that have been making the headlines and the new generation's bid for democratic reforms in the Middle East are among the issues that the panel will consider, according to Helmut Smith, director of the Max Kade Center for European and German Studies and primary organizer of the forum.
"Is change coming from the bottom up? Does victory now go to those best able to network and organize protests? These are among the issues to be discussed," said Smith, who is also the Martha Rivers Ingram Professor of History.
Serving as sponsors for the forum are the Vanderbilt Muslim Student Association, Middle Eastern Student Association, Program in Islamic Studies, Department of History and the Max Kade Center for European and German Studies.
For more information, call the Max Kade Center at 615-322-2527.