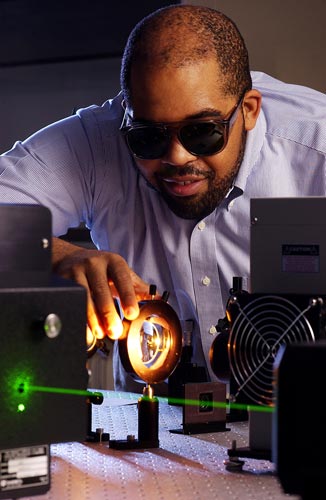 Three junior Vanderbilt faculty members – Assistant Professor of Physics James Dickerson, Assistant Professor of Biomedical Engineering Hak-Joon Sung and Assistant Professor of Mechanical Engineering Robert J. Webster III – have been awarded the National Science Foundation's Faculty Early Career Development grants.
According to the National Science Foundation, CAREER awards support exceptionally promising college and university junior faculty who are committed to the integration of research and education and are likely to become the academic leaders of the 21st century.
James Dickerson, who came to Vanderbilt in 2004, has pioneered methods for making freestanding, transportable films exclusively from nanoparticles. To do so he has adapted a commercial process called electrophoretic deposition (EPD) that can fabricate large, flexible and self-supporting sheets out of almost any type of nanomaterial. They represent a totally new class of materials with a number of possible applications, ranging from anti-corrosion and anti-fogging coatings to flexible video displays. Dickerson will apply his award to optimize the EPD method to produce larger-scale films and to characterize the physical and, in some cases, magnetic properties of the films that he creates. In addition, he will use part of the grant to train local undergraduates, high school students and high school science teachers in nanoscience, materials science and engineering.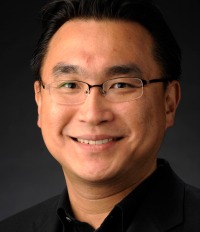 Hak-Joon Sung's research explores a new approach to regenerate injured small blood vessels as well as create a new tool box for minimally invasive surgery. He will be evaluating the effectiveness of an injectable vascular patch made of a smart biomaterial whose shape, size and thickness can be customized to fit even tiny damaged blood vessels such as those caused by cerebral hemorrhages and that lead to stroke. This patch product will be designed to use "artificial intelligence"-like procedures to navigate to individual blood vessels, detect the nature of the damage and initiate repair work. This design will enable the patch to regain its original shape with a suture-free sealing effect when it flows to an injury site of small blood vessels through remote injection. Sung also plans to create a web-based community of students from the United States and South Korea to focus on biomaterials and tissue engineering. Sung joined the Biomedical Engineering department in 2009.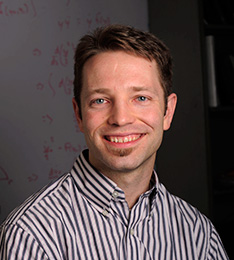 Robert Webster will apply his award to provide treatment options for currently "inoperable" patients. Specifically, he will be designing more accurate and less invasive tentacle-like surgical tools called "continuum robots." Inspired by biological structures like tongues and octopus tentacles, these robots may enable new diagnostic procedures to detect lung cancer, enable doctors to remove tumors at the center of the head and restore hearing to deaf patients via steerable cochlear implants. In these and other surgical applications, more accurate continuum robots will work cooperatively with surgeons, augmenting their perception and manipulation capabilities. Webster, who joined the Mechanical Engineering department in 2008, will use part of the grant to promote undergraduate research, develop touch-based devices to teach graphical math to blind children and increase access to robotic devices in high school classrooms.