The Servant of Two Masters premieres Feb. 18 at Vanderbilt
by
Missy Pankake
Feb. 1, 2011, 10:42 AM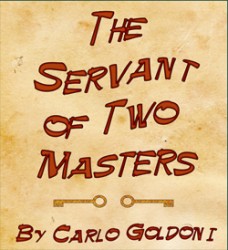 The 18th-century farce The Servant of Two Masters by Carlo Goldoni premieres at Neely Auditorium at Vanderbilt University on Feb. 18.  
The central character, the servant, is constantly hungry.  When an opportunity arises to double his meals by entering the service of a second master, he leaps at the chance. One of his "masters" is in fact a lady in disguise and the other is her lover, but he does not know this. Mayhem, mistaken identities and lots of eating follow.
The characters of this play are taken from the Italian Renaissance theatre style Commedia dell'arte, popular in the 16th and 17th centuries.
"Most audience members today are unfamiliar with commedia dell'arte, so I adapted Goldoni's script," said Jon Hallquist, associate professor of theatre at Vanderbilt and director of the play. "Because commedia dell'arte played upon stereotypes, I moved the time and place of Goldoni's original text to the American Wild West.
"Having watched Westerns, Americans almost instinctively know and recognize stereotypical character types from this era," said Hallquist. "The Wild West also seems like an appropriate transfer because of the exuberant vitality of its characters.  This larger-than-life, untamed spirit closely resembled the vibrant energy in Goldoni's original text."
The Servant of Two Masters will be performed at 8 p.m. on Feb. 18, 19, 24, 25, 26, and at 2 p.m. on Feb. 20. Admission is $10 for the general public, $7 for graduate and professional students and free for undergraduates with Vanderbilt identification. Tickets may be reserved by calling (615) 322-2404.
Read more about the 2010-2011 Vanderbilt Theatre Season.