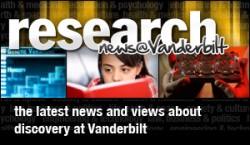 The latest news about discoveries by Vanderbilt researchers is now available on a new online news channel, Research News @ Vanderbilt.
"We have created this website to open the doors of our laboratories and lecture halls to a broad audience and share with them the excitement of discoveries being made every day at Vanderbilt," Beth Fortune, vice chancellor for public affairs, said.
"This website will help us further expand our mission of education beyond our campus and interest new audiences in science and research," Fortune continued. "[rquote]Notably, the site consolidates research stories from across the institution, showing the breadth and significance of research at Vanderbilt.[/rquote]"
The site features new research in categories including health and medicine, education and psychology, engineering and technology, law, business and politics, life, Earth and space, and society and culture.
Dynamic photography, video and illustrations help tell the stories of discovery. Users are encouraged to engage with the stories both by commenting on them and by sharing and discussing them on Facebook, Twitter and other digital platforms.
"Ideally this website can serve as a virtual meeting room for people to not only learn about their areas of interest, but also to share their views and engage with one another and with Vanderbilt," Fortune said.
Recent stories have included the discovery of new drugs in caves, Vanderbilt's role in a new, global Alzheimer's research consortium, the impact of a father's job on a child's propensity to bully, how social networks help breast cancer patients, and many more.
The site represents the next step for Vanderbilt's research communications, replacing the Exploration website and Lens magazine, both of which can still be searched online. In addition, the new site includes stories about research that are written for other publications across campus, a calendar of research events and a blog written by Vanderbilt science writers.
The site is managed by the Vanderbilt News Service and Vanderbilt University Medical Center News and Communications. It was designed and developed by University Web Communications. All units are within the Division of Public Affairs.
The site's URL is http://news.vanderbilt.edu/research.