Media Inquiries
Latest Stories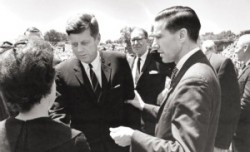 It has been 50 years since John F. Kennedy began his presidency and Vanderbilt is commemorating his 1963 visit to the university with a free, public symposium Wednesday, Feb. 16, at 7 p.m.
"Answering Kennedy's Call: Vanderbilt Students and Public Service in the 21st Century" will be held in the ballroom of the Student Life Center, located at 310 25th Avenue South, on the Vanderbilt campus. A number of noted panelists will discuss Kennedy's Vanderbilt speech, its meaning and relevance for a new generation of Vanderbilt students.
Vanderbilt's Office of Active Citizenship and Service, Office of the Dean of Students and East House in The Commons in association with the Institute of Politics at the John F. Kennedy School of Government at Harvard University, are sponsoring the event.
Kennedy delivered his speech at Vanderbilt on May 18, 1963 – just months before his assassination in November in Dallas. During his remarks he recognized the university's 90th anniversary and its growth from "a small, Tennessee university and institution, to one of our nation's greatest, with seven different colleges and with more than half of its 4,200 students from outside of the state of Tennessee."
He also spoke to students of the responsibilities of all Americans – particularly those of the educated citizen.
[rquote]"All Americans must be responsible citizens, but some must be more responsible than others by virtue of their public or their private position, their role in the family or community, their prospects for the future, or their legacy from the past.[/rquote] Increased responsibility goes with increased ability. For those to whom much is given, much is required," he said.
"Of the many special obligations incumbent upon an educated citizen, I would cite three as outstanding: Your obligation to the pursuit of learning; your obligation to serve the public; your obligation to uphold the law. If the pursuit of learning is not defended by the educated citizen, it will not be defended at all."
"I urge all of you today, especially those who are students, to act – to enter the lists of public service and rightly win (or lose) the prize. For we can have only one form of aristocracy in this country. As Jefferson wrote long ago in rejecting John Adams's suggestion of an artificial aristocracy of wealth and birth, 'It is,' he wrote, 'the natural aristocracy of character and talent.'"
Among the panelists discussing Kennedy's remarks are John Seigenthaler, editor emeritus of The Tennessean newspaper and former administrative assistant to Attorney General Robert F. Kennedy; Professor Rick Chappell, Vanderbilt faculty member and shuttle-trained astronaut at NASA and a Vanderbilt undergraduate at the time of Kennedy's visit; Samar Ali, a 2003 Vanderbilt alumnus who served as president of  the university's Student Government Association and is currently a White House Fellow, and Ashley Judd, actress, social activist and an alumnus of the Harvard School of Government. Mark Dalhouse, historian, director of Vanderbilt's Office of Active Citizenship and faculty head of East House in The Commons, will moderate the symposium.
Those interested in watching video of Kennedy's speech at Vanderbilt can also visit Vanderbilt's Central Library and Special Collections for "The Sixties at 50," an exhibition of unique video, photographs and other treasures from one of society's most significant decades. New galleries on the library's second and fourth floors showcase Vanderbilt's Special Collections, including rare footage of Kennedy at Vanderbilt, as well as, the Rev. Martin Luther King Jr., astronaut John Glenn and other speakers who came to Vanderbilt in the 1960s.