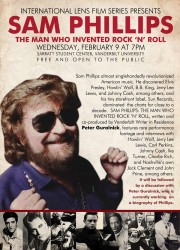 A documentary about seminal American musical figure Sam Phillips will be screened Feb. 9 at Vanderbilt University, with writer Peter Guralnick speaking after the presentation.
The free showing of Sam Phillips: The Man Who Invented Rock 'n' Roll, part of the International Lens series at Vanderbilt, is 7 p.m. in Sarratt Cinema on campus. The film was written and co-produced by Guralnick, writer in residence at Vanderbilt and author of the definitive Elvis Presley biographies Last Train to Memphis: the Rise of Elvis Presley and Careless Love: The Unmaking of Elvis Presley. Guralnick last year presented the documentary he wrote on Sam Cooke, an outgrowth of his prize-winning biography, Dream Boogie: The Triumph of Sam Cooke.
Phillips, who died in 2003, almost singlehandedly revolutionized American music. He discovered Presley, Howlin' Wolf, B.B. King, Jerry Lee Lewis and Johnny Cash, among others, and his tiny storefront label, Sun Records, dominated the charts for close to a decade.
Sam Phillips: The Man Who Invented Rock 'n' Roll, features rare performance footage and interviews with Howlin' Wolf, Lewis, Carl Perkins, Cash, Ike Turner, Charlie Rich, and Nashville's own Jack Clement and John Prine, among others. It will be followed by a discussion with Guralnick, who is currently working on a biography of Phillips.
[rquote]The International Lens series strives to transcend geographic, ethnic, religious, linguistic and political boundaries by promoting conversation and understanding through cinema.[/rquote] All the screenings are free and open to the public. Many will feature introduction by Vanderbilt faculty and a new theater-quality digital projector will enhance the viewer's experience on the screenings utilizing DVDs.
Sarratt Cinema is located on the first floor of the Sarratt Student Center at Vanderbilt. Parking for Nashville community members for International Lens screenings in Sarratt Cinema is available at no charge in Zone 2 Lot 2 on West End Avenue. Please avoid parking in spaces that are reserved. If the lot is full, metered parking spaces are available on West End. There is no charge after 6 p.m. for parking at meters along West End. All other meters on campus are enforced around-the-clock, so do not park at these meters.