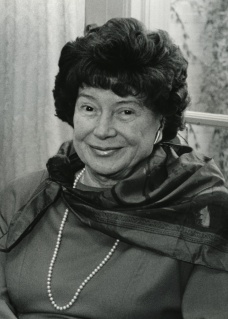 Jean Keller Heard, widow of former Vanderbilt University Chancellor Alexander Heard and a social, musical and civic presence in Nashville for more than four decades, died Jan. 2. She was 86.
"As the 'first lady' of Vanderbilt for many years, Mrs. Heard left a lasting imprint on the university during a crucial time in history," Vanderbilt Chancellor Nicholas S. Zeppos said. "She was a devoted and loving mother and wife, who warmly welcomed students and faculty into her home. On behalf of the Vanderbilt community, I offer deep and heartfelt sympathy to her family."
Heard was an accomplished violinist who played with the North Carolina String Quartet and several symphony orchestras and performed in quartet and solo recitals in the Southeastern United States. In the 1960s she worked in Nashville as a session violinist.
After moving to Nashville with her husband in 1963, she was the hostess for many Vanderbilt functions and an avid supporter of Vanderbilt's main library – which in 1984 was named the Jean and Alexander Heard Library. She played a key role in the merger of the Blair School of Musicand Vanderbilt University in 1981. She was a past president of the Vanderbilt Aid Society and the Friends of the Vanderbilt University Library, which she founded with her husband. She was active in city committees that addressed issues including homelessness, literacy and adolescent pregnancy.
"As anyone who knew my mother was aware, she was a passionate woman," said her daughter, Connie Heard, professor of violin at Vanderbilt's Blair School of Music. "She was passionate about music, about her family, about politics and about education. Her behind-the-scenes influence was far-reaching and her sense of humor something that will always bring a smile to my face. … She cared deeply about those around her, and our family will miss her."
Alexander Heard's years as chancellor included some of the most turbulent times in American higher education. Chancellor Heard was credited with maintaining stability at Vanderbilt through his quiet, regular meetings with students. He and his wife were held in high esteem by students and faculty alike.
Jean Heard was born Laura Jean Keller on Aug. 7, 1924, in Andalusia, Ala., to Mariglynn Cornelius and James Albert Keller, who was the president of Florence State Teachers College in Alabama from 1938 to 1948.
She was a graduate of the University of Alabama and Juilliard School of Music and during her career as a musician she performed with the symphonies at the University of Alabama and the University of North Carolina and later the Nashville Symphony Orchestra. Her career was interrupted by a serious automobile accident that seriously injured her and resulted in the deaths of her parents.
She met Alexander Heard in Alabama (when he was studying Southern politics with V.O. Key) and they were married on June 17, 1949. When Alexander Heard agreed to leave the University of North Carolina, where he was dean of the Graduate School, to become chancellor of Vanderbilt, the couple moved with their four children to Nashville from Chapel Hill, N.C.
Among her community activities, Heard was a member of the Nashville Symphony Guild, Nashville Symphony Board of Directors, Ladies Hermitage Association, Polk Memorial Association, Pi Beta Phi Alumni Association, Vanderbilt Women's Club, Vanderbilt Aid Society (president 1966-68), Citizens' Committee for Comprehensive Survey of Social Welfare in Metropolitan Nashville, Committee to Study Problems of Unmarried Parents, Emergency School Assistance Program, Tennessee Performing Arts Foundation, Reading is Fundamental of Nashville (founder and director from 1975 to 1979) and the advisory board of Blair School of Music. In May 1977 she was invited to testify before the President's Commission on Mental Health about adolescent pregnancy.
Heard helped the Vanderbilt library with numerous acquisitions as part of her founding and leadership of the Friends of the Vanderbilt University Library, including the papers of the late Francis Robinson on theater, music and dance; memorabilia of members of the Fugitive and Agrarian writing circles; the Marc H. Hollander collection of Mark Twain first editions; and the Pascal Pia and Joseph Mersand collections.
"If it wasn't for Jean, we wouldn't have the Friends of the Vanderbilt University Library," said then-Vice Chancellor Rob Roy Purdy in a 1982 interview with The Tennessean. "She gave it birth and nurtured it through the years."
Heard is preceded in death by her husband, who died July 24, 2009, following an extended illness.
She is survived by sons Stephen, a Nashville attorney; Christopher, acknowledgement coordinator in Vanderbilt's development office; Frank, a Washington, D.C.-based management consultant; and daughter Cornelia, a professor of violin at Vanderbilt's Blair School of Music who is married to Edgar Meyer, the distinguished bassist and an adjunct professor at Blair. Heard is also survived by two grandsons, George Alexander Meyer and Alexander Michael Heard, and by her sister, Anne Parrish of Chapel Hill, N.C.
A memorial service will be held at 2:30 p.m. Jan. 8 at Benton Chapel on the Vanderbilt campus. It will be preceded by visitation at 1 p.m.
In lieu of flowers, memorials may be sent to the Jean and Alexander Heard Memorial Fund at Vanderbilt University (PMB 70227, 2301 Vanderbilt Place, Nashville, TN 37240) or online through the Vanderbilt website, www.vanderbilt.edu.