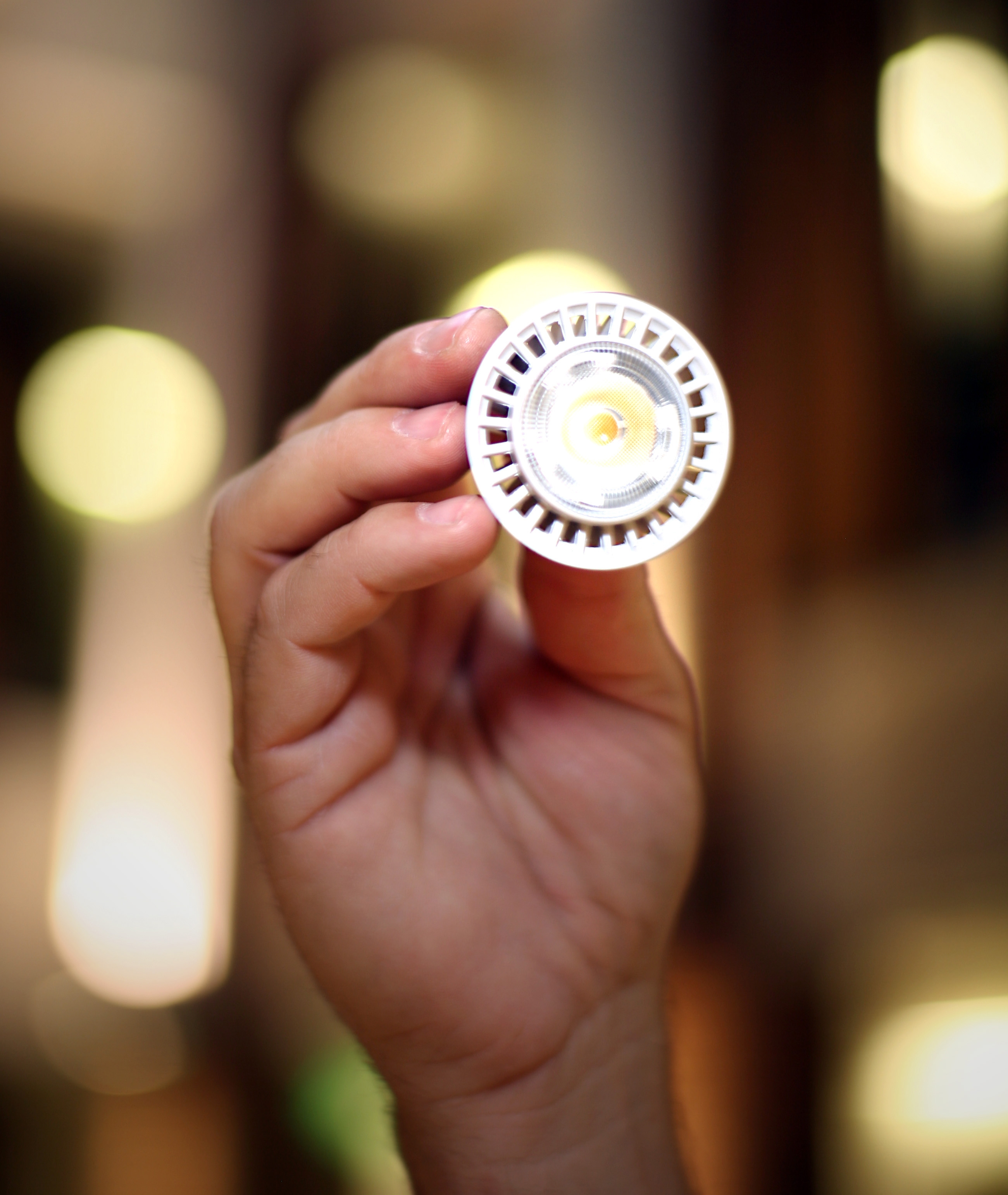 A recent upgrade to the lighting in Buttrick Hall, a classroom building on Vanderbilt University's campus, saves both money and the environment.
The Plant Operations crew replaced 150 50-watt MR-16 halogen light bulbs with 6-watt light-emitting diode (LED) bulbs. The new LED lights will save 57,000 kilowatt hours per year and avoid producing approximately 34 metric tons of greenhouse gas emissions per year.
"Going with LED lights made the most sense," said Paul Netter, the Plant Operations manager who initiated and helped to complete the changeover. The College of Arts and Science is supporting and funding the changeovers.
"LEDs last a minimum of five years compared to the halogens which had to be changed out every two months," said Netter. "Halogens also produce heat that degrades wiring and connectors.  And the LEDS have no mercury in them like fluorescent fixtures, eliminating any disposal issues."
In addition to the replacements at Buttrick Hall, Plant Operations has just completed a lighting retrofit of the perimeter of the Stevenson Center Math Building, replacing around 70 incandescent bulbs with LED bulbs. They are in the process of doing the same to the perimeter lighting in the Stevenson Science and Engineering Library courtyard and upgrading the pole lights on campus to LED bulbs. The College of Arts and Science is supporting and funding the changeovers.
"Anywhere we can change 24-hour demand lighting to LED, we plan to proceed if existing lighting parameters can be sustained," said Netter. "Elevators are another critical lighting area we plan to target." 
"[rquote]Projects like this are forward-thinking and what helps Vanderbilt continue to reduce our energy consumption and GHG emissions[/rquote]," said Andrea George, director of the Sustainability and Environmental Management Office. "Vanderbilt emits GHGs primarily through campus building energy consumption."
Vanderbilt decreased GHG emissions by 7.8 percent from 2008 to 2009 and hopes to continue the decrease each year.
"We're proud of the progress we've made, especially this past year, and look forward to continuing improvement," stated Mark Petty, assistant vice chancellor for plant operations.
For more information about conserving energy on campus, visit Vanderbilt's ThinkOne Web site http://www.vanderbillt.edu/sustainvu/thinkone.