View all the latest news about Vanderbilt's new head coach at www.vanderbilt.edu/coach.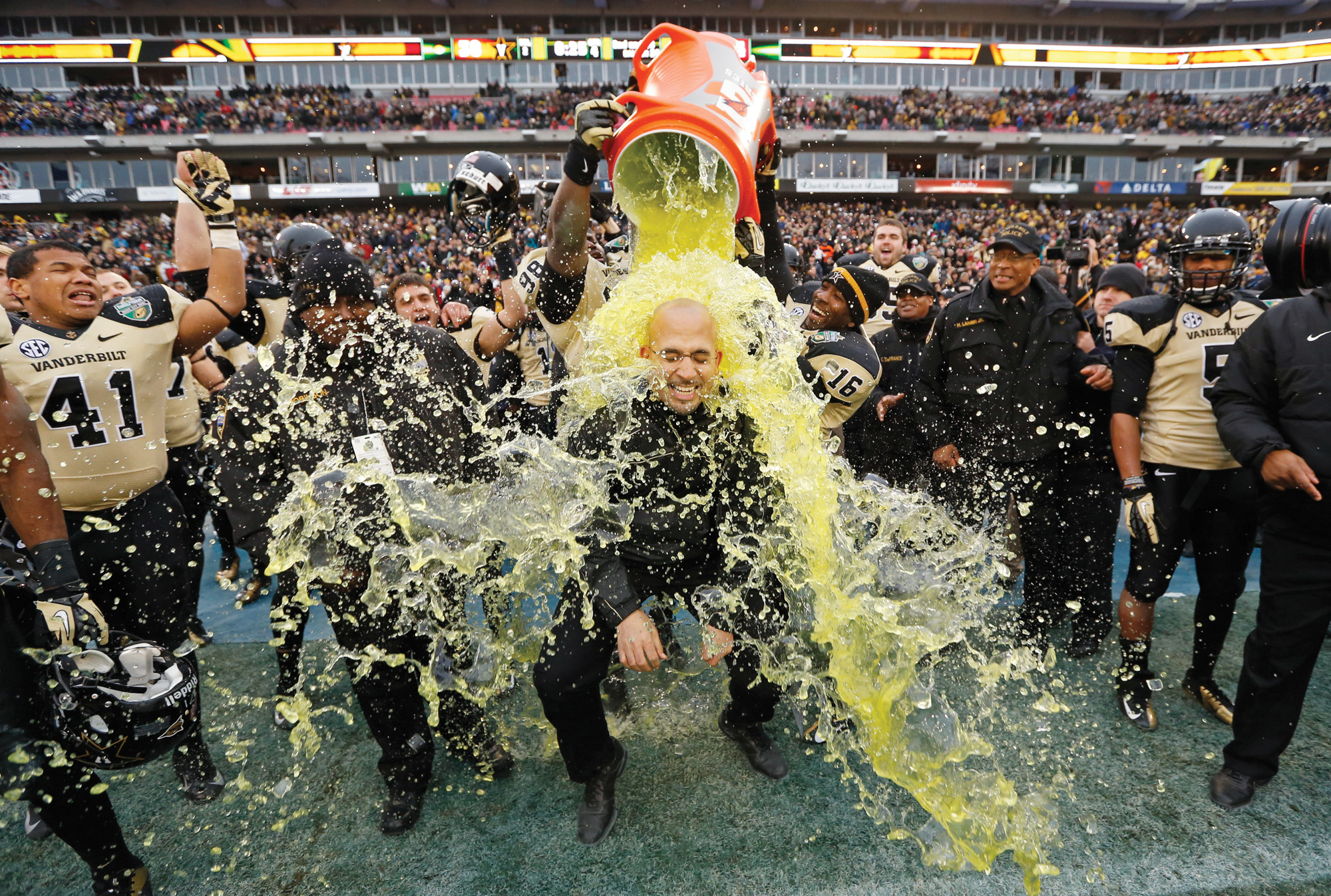 James Franklin, one of the nation's top offensive coordinators and recruiters, is a head coach-in-waiting no longer.
Franklin, assistant head coach and offensive coordinator at the University of Maryland, will be introduced Friday as the 27th head coach in Commodore football history by Vanderbilt Chancellor Nicholas S. Zeppos and Vice Chancellor for University Affairs and Athletics David Williams II.
"The hiring of Coach Franklin represents a new day for Vanderbilt football," Zeppos said. "He has my full support and commitment that we will help him create an environment where the successes on the field equal the university's extraordinary successes off the field. Coach Franklin will have an immediate and positive impact on our students, alumni, faculty, staff and broader Vanderbilt community, and I welcome him to Vanderbilt."
Williams said, [rquote]"Improving our football program is a high priority at Vanderbilt and the first step in the process was to identify just the right person to lead us. [/rquote]Our search was national and we talked to many, many candidates and experts in the college football arena. One name that quickly rose to the top of our list was James Franklin. We are thrilled that he has agreed to become our head coach."
A native of Langhorne, Pa., the 38-year-old Franklin becomes the first minority head coach to lead the Vanderbilt football program.
This season, Franklin molded redshirt freshman quarterback Danny O'Brien into the Atlantic Coast Conference Rookie of the Year. O'Brien ranked third among freshmen nationally with a pass efficiency rating of 135.2, and threw for 21 touchdowns after becoming the team's starter in week four.
Terrapin wide receiver Torrey Smith also flourished this year in Franklin's offense, catching 65 passes for 1,045 yards and 12 touchdowns en route to earning first-team All-ACC honors.
The Terrapins finished the 2010 regular season with a record of 8-4 and earned a berth to the Military Bowl. Maryland was second in the ACC's Atlantic Division thanks in large part to an offense that ranked third in the nation with only 12 turnovers lost.
Franklin has spent eight years on the coaching staff at Maryland, including the last three seasons as assistant head coach and offensive coordinator. In February 2009, Franklin was designated the successor to Maryland head coach Ralph Friedgen.
Franklin's efforts at Maryland impressed former Terrapin Athletic Director Debbie Yow, now director of athletics at North Carolina State.
[lquote]"Coach Franklin is a terrific fit for Vanderbilt … an overachiever who maximizes every opportunity. He will bring with him a relentless work ethic and a staff that does the same.[/lquote] Working hard and working smart are his trademarks, along with expectations of academic excellence," Yow said.
In addition to his offensive acumen, Franklin is regarded as one of the nation's top recruiters and has helped the Terrapins sign 10 four-star recruits in the past two classes. Rivals.com has cited Franklin among the nation's Top 25 recruiters on at least four occasions, including the last two years.
Franklin also has a history of developing outstanding talent. Two of his recent pupils – Maryland receiver Darrius Heyward-Bey and Kansas State quarterback Josh Freeman – were chosen in the first round of the 2009 NFL Draft.
Franklin spent the 2006-07 seasons as offensive coordinator at Kansas State, helping the Wildcats achieve their first winning season in four years, and gain a berth in the inaugural Texas Bowl. While with Kansas State, he impressed another member of the Wildcat staff, current Tampa Bay Bucs head coach Raheem Morris.
[rquote]"He is a first class coach, and a perfect fit for a university like Vanderbilt. He's a tremendous motivator of men, and inspires character in each of his players. He works really hard to be the best that he can be as a coach, and has the toughness to build up a program in the SEC.[/rquote] He will no doubt be a great representative of Vanderbilt University," Morris said.
In 2007, Freeman broke a number of school records by throwing for 3,353 yards, including 122 completions to Jordy Nelson. Freeman is currently the starting quarterback for the Tampa Bay Buccaneers while Nelson is a key receiver for the Green Bay Packers.
Franklin has ties with Green Bay, having spent the 2005 season as the Packers' wide receivers coach under head coach Mike Sherman. That year, Donald Driver established a number of new career-high marks with 86 receptions for 1,221 receiving yards.
Franklin's first full-time NFL gig came on the heels of a five-year tenure with the Terrapins. After being hired prior to the 2000 season, Franklin was one of two assistant coaches retained by Friedgen that November.
The Terrapins would earn three postseason berths in the next four seasons, including an appearance in the 2002 FedEx Orange Bowl. In 2003, Franklin was promoted to be Maryland's recruiting coordinator, helping deliver back-to-back recruiting classes ranked by experts among the nation's Top 25.
The tireless Franklin gained valuable experience in his early coaching career at five different stops. As the wide receivers coach at Idaho State in 1999, Franklin helped mentor a Bengals team that ranked ninth nationally in total offense.
Franklin's first coaching job at a BCS conference school came in 1998 at Washington State as the graduate assistant in charge of tight ends under head coach Mike Price. He also spent one season at James Madison as the wide receivers coach for head coach Alex Wood.
Franklin has been involved with the NFL's Minority Coaching Fellowship Program since 1998, including internships with the Minnesota Vikings, Philadelphia Eagles and Miami Dolphins.
Franklin began his coaching career in 1995 as the wide receivers coach at Kutztown State (Pa.). The following year, he returned to his alma mater, East Stroudsburg University, to mentor defensive backs.
A four-year letterman at quarterback for East Stroudsburg from 1991 to 1994, Franklin was a two-time Pennsylvania State Athletic Conference selection. As a senior he garnered team MVP honors and was a Harlon Hill nominee for Division II Player of the Year after setting seven school records, including single-season marks for total offense (3,128), passing yards (2,586) and TD passes (19).
Franklin earned a bachelor degree in psychology from East Stroudsburg in 1995 and a master's in educational leadership from Washington State in 1999.
He and his wife, Fumi, have two daughters, Ava and Addison.