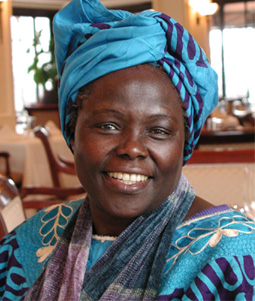 Wangari Maathai, the 2004 recipient of the Nobel Peace Prize and founder of the environmentally conscious Green Belt Movement, will receive Vanderbilt University's prestigious Nichols-Chancellor's Medal in May 2011 when she will address graduating seniors and their families during Senior Day.
Senior Day, which will be held May 12, precedes Vanderbilt's annual Commencement ceremony for graduating seniors on May 13, and is a highlight of three days of activities honoring graduates, their families and friends.
"Through her selfless determination to advocate for people and places most vulnerable in these challenging and uncertain times, Dr. Maathai's work reflects  those values most important to Vanderbilt and its mission of responding to humanity's most critical needs," said Chancellor Nicholas S. Zeppos. [rquote]"By creating opportunities to enact change, Dr. Maathai sets an inspiring example for our students and entire community to engage their talents to make a difference in the world in which we live."[/rquote]
The Nichols-Chancellor's Medal, which includes a cash prize, is one of the university's highest honors and is given to individuals who define the 21st century and exemplify the best qualities of the human spirit. It was created and endowed by Vanderbilt Law School graduate Ed Nichols and his wife, Janice, in honor of Edward Carmack and Lucile Hamby Nichols.
Maathai, born in Nyeri, Kenya, in 1940, is the first woman in East and Central Africa to earn a doctoral degree. She is internationally recognized for her persistent struggle for democracy, human rights and environmental conservation. In 2002, she was elected to Kenya's parliament with 98 percent of the vote and now represents the Tetu constituency, Nyeri district in Kenya – her home region. She also serves as assistant minister for environment and natural resources in Kenya's ninth parliament – a post she has held since she was appointed by President Mwai Kibaki in January 2003.
In 1977, she launched the Green Belt Movement as a broad-based grassroots organization focusing on women's groups planting trees to conserve the environment and empower themselves by improving their quality of life. Through GBM, Maathai has helped women plant more than 30 million trees on their farms and in school and church compounds across Kenya. In 1986, GBM established a Pan-African Green Network that has inspired tree-planting initiatives across Africa.
As co-chair of the Jubilee 2000 Africa Campaign, Maathai advocated for canceling the backlogged, non-repayable debts of poor African countries. She has also taken a stand against "land grabbing" by unscrupulous developers who are illegally appropriating public lands and reallocation of forest land.
Her most recent book, Replenishing the Earth, is a call to heal the wounds of our planet and ourselves through the tenets of our spiritual traditions. She is also the author of The Challenge for Africa and her memoir, Unbowed, that was published in 2006.
The winner of numerous awards and honors for her work, Maathai holds a bachelor of science in biology from Mount St. Scholastica College in Atchison, Kan., a master of science in biological sciences from the University of Pittsburgh and a doctorate in anatomy from the University of Nairobi.
Previous recipients of the Nichols-Chancellor's Medal include Laura Bush, Muhammad Yunus, Bob Geldof, Doris Kearns Goodwin and Khaled Hosseini.
The Senior Day address by Maathai will be held at 10 a.m. in Memorial Gymnasium. Maathai's address will also be streamed live at news.vanderbilt.edu.
For updates on Senior Day and other events, visit Vanderbilt's Commencement website at www.vanderbilt.edu/commencement.