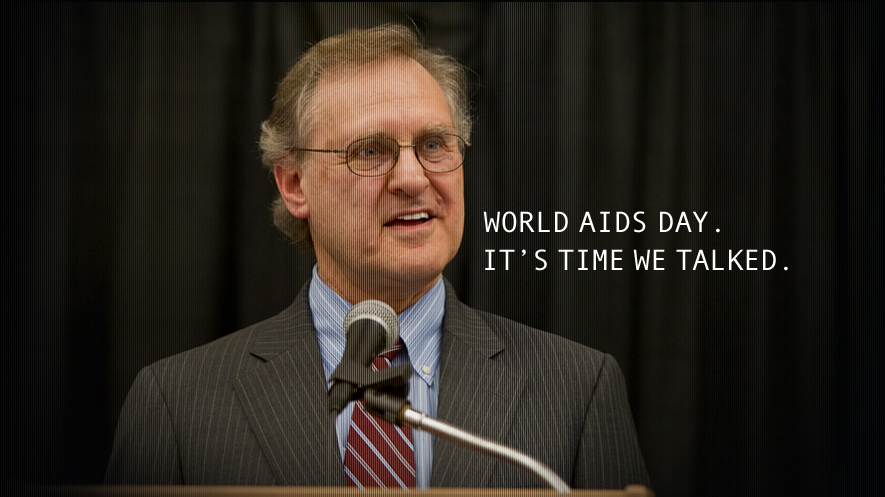 International AIDS activist Stephen Lewis will talk about his experiences with the HIV/AIDS pandemic Thursday, Dec. 2, as part of Vanderbilt University's commemoration of World AIDS Day. Lewis is board chair of the Stephen Lewis Foundation, co-founder and co-director of AIDS-Free World, former deputy director of UNICEF and former U.N. Special Envoy for HIV/AIDS in Africa.
Lewis' talk, which is free and open to the public, begins at 7 p.m. in Vanderbilt's Langford Auditorium. A reception will follow the event during which Lewis and local and Vanderbilt campus organizations will be on hand to provide information about what they are doing to fight the pandemic.
Vanderbilt's Office of the Dean of Students, Institute for Global Health, a coalition of student organizations and The Commons, the university's living-learning community for first-year students, are sponsoring the event.
The Institute for Global Health and Vanderbilt's HIV Vaccine Program are also among the community partners participating in "World AIDS Day 2010, Nashville – One City, Many Nations," a free public event on the official World AIDS Day, Monday, Dec.1. Doors for this event open at 6 p.m. and will be held at the Belcourt Theater. For more about this event, visit www.worldaidsdaynashville.org.
A Distinguished Visiting Professor at Ryerson University in Toronto, Lewis founded the Stephen Lewis Foundation in Canada in 2003 to support community-based organizations poised to turn the tide of HIV/AIDS in Africa. Since then the foundation has funded more than 300 grassroots projects in 15 countries. The projects are a lifeline for their communities providing counseling and education about HIV prevention, care and treatment, food, medication and other necessities.
Lewis is also co-founder and co-director of AIDS-Free World, an international advocacy organization that relies on a small staff working virtually from a dozen locations in the United States, Canada, Africa, the Caribbean and Europe.
His work with the United Nations spanned more than two decades, including serving as the U.N. Secretary-General's Special Envoy for HIV/AIDS in Africa from June 2001 through 2006.  He also spent four years as deputy executive director of UNICEF at the organization's global headquarters in New York.
He is the author of the best-selling book, Race Against Time, and holds 32 honorary degrees from Canadian universities. In June 2010 he received an honorary degree from New Hampshire's Dartmouth College.
Lewis was appointed a Companion of the Order of Canada, the country's highest honor for lifetime achievement, in 2003 and was awarded the Pearson Peace Medal in 2004 by the United Nations Association in Canada. The medal celebrates outstanding achievement in the field of international service and understanding. In 2007, King Letsie III, monarch of the Kingdom of Lesotho, a small mountainous country in Southern Africa, invested Lewis as Knight Commander of the Most Dignified Order of Moshoeshoe. The order is named for the founder of Lesotho and the knighthood is the country's highest honor.
For more information about the Stephen Lewis Foundation, visit www.stephenlewisfoundation.org.