Media Inquiries
Latest Stories
[Media Note: Vanderbilt has a 24/7 TV and radio studio with a dedicated fiber optic line and ISDN line. Use of the TV studio with Vanderbilt experts is free, except for reserving fiber time.]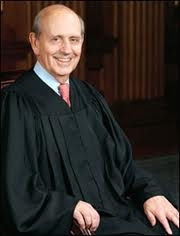 United States Supreme Court Justice Stephen Breyer will speak at Vanderbilt Law School on Tuesday, Nov. 16 at noon in Flynn Auditorium.
Admission is free, but a ticket is required. Tickets are available to Vanderbilt Law students only. The law school's Renaissance Room will be open to the public to watch the lecture. No ticket is required for the overflow room.
Breyer's discussion will focus on themes in his newly released book, Making Our Democracy Work, A Judge's View. Signed copies of Breyer's book will be available for purchase in the Burch room before and after the event.
For media interested in attending, credentials for the lecture must be reserved by Monday, Nov. 15. To receive credentials, please contact Amy Wolf in the Vanderbilt News Service.
Breyer has been a Supreme Court associate justice since 1994. He was nominated by President Bill Clinton. Before joining the Supreme Court, he held a seat on the First Circuit U.S. Court of Appeals, starting in 1980. Breyer was special assistant to the U.S. assistant attorney general for antitrust and was assistant special prosecutor on the Watergate special prosecution force in 1973. He was a law professor at Harvard Law School starting in 1967, specializing in administrative law, and wrote several influential textbooks that are still used today. Breyer also clerked for Supreme Court associate justice Arthur Goldberg in 1964.
Making Our Democracy Work, A Judge's View is Breyer's second major book. In his 2005 book, Active Liberty, Breyer made his first attempt to lay out his views on legal theory, arguing that the judiciary should seek to resolve issues to encourage popular participation in governmental decisions.
A video recording of Justice Breyer's talk will be posted on http://news.vanderbilt.edu, http://www.vanderbilt.edu/itunesu and www.youtube.com/Vanderbilt.