Media Inquiries
Latest Stories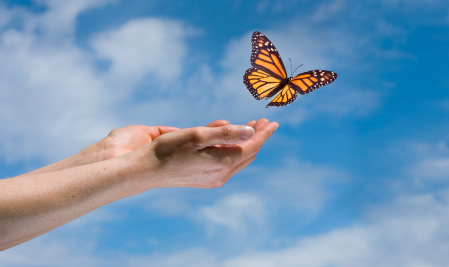 Warm, coming-of-age story set in the late 1960s will leave audiences glowing with laughter and love
Butterflies Are Free by Leonard Gershe premieres at Neely Auditorium at Vanderbilt University on Nov. 5. In this Tony Award-winning comedy, a young blind man and the free-spirited girl-next-door discover the values of self-reliance and dependence.
The play centers on Don Baker, a Greenwich Village newcomer who struggles to create an independent life for himself apart from his family in Scarsdale. As Don settles into his cramped studio apartment, he starts a casual affair with a young actress who moves in next door. It isn't long before her free-love attitude and fear of commitment complicate their relationship and clash with Don's overbearing mother.
"Not only will this be a fun show to watch with its humor and 1960s aura, but its main theme directly pertains to our student audience," said Alicia Sells, director. "Students at any university learn to find their way in the world on their own, just as Butterflies Are Free's main character does. There are obstacles and triumphs and perhaps a moment of defeat, but in the end, we all will gain our freedom of adulthood."
Gershe also wrote the screenplay for a 1972 film version starring Goldie Hawn, Eileen Heckart and Edward Albert. Heckart earned an Academy Award and Albert earned a Golden Globe Award for their performances. The film version reunited Gershe with the original Broadway director, Milton Katselas.
Butterflies Are Free will be performed at 8 p.m. on Nov. 5, 6, 11, 12 and 13, and at 2 p.m. on Nov. 7. Admission is $10 for the general public, $7 for graduate and professional students and free for undergraduates with Vanderbilt identification. Tickets may be reserved by calling (615) 322-2404.
For more information about the 2010-2011 Vanderbilt Theatre Season, visit http://vanderbilt.edu/theatre/currentseason.