Modern Slavery Museum to visit Vanderbilt University Oct. 18
by
Missy Pankake
Oct. 12, 2010, 3:37 PM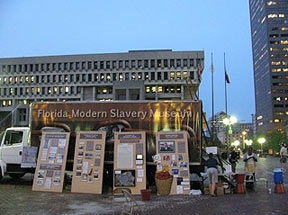 A special mobile museum will make a stop at Vanderbilt University's campus during its tour of the Southeast to promote awareness of modern slavery.
The museum is sponsored by the Florida-based Coalition of Immokalee Workers (CIW), a community-based organization of low-wage agricultural workers throughout Florida, particularly in the tomato and citrus industries. The museum will be parked on Alumni Lawn at Vanderbilt University from 9 a.m. to 4 p.m. on Monday, Oct. 18. The museum is free and open to the community.
"Since they began organizing in 1993, the CIW has campaigned for industry-wide wage increases and has played an important role in several legal cases involving involuntary servitude," said Vanderbilt graduate student John Morrell.  He and graduate student C.J. Sentell coordinate a "Food Politics and Pedagogy" seminar at Vanderbilt's Robert Penn Warren Center for the Humanities. "Their anti-slavery campaign has helped to expose and fight the existence of modern day slavery."
The museum operates out of a replica of a cargo truck where Florida tomato pickers were nightly chained, in circumstances which a 2008 grand jury described as "slavery, plain and simple." The museum's exhibits, developed in consultation with workers who have escaped from forced labor operations as well as leading academic authorities on slavery and labor history, focus on the roots of modern-day slavery and the reasons it persists. The museum also analyzes how our current food system hides the lives of farm-workers from those who eat the fruit of their labor. In addition to hearing a few of those stories, museum-goers are given concrete steps they can take to help end agricultural slavery today.
Since 1997, the Civil Rights Division of the U.S. Department of Justice has prosecuted seven farm labor servitude cases in Florida, prompting one federal official to label the state "ground zero for modern slavery."
The Coalition of Immokalee Workers has been a leader of antislavery efforts in the state's agricultural industry for more than a decade, and played a key role in the discovery and investigation of six of the seven Florida slavery prosecutions since 1997. In 2001, the CIW launched the Campaign for Fair Food, an innovative, worker-led campaign for the elimination of human rights violations in the U.S. agricultural industry. For more information about CIW, visit www.ciw-online.org.
This is event is co-sponsored by the Vanderbilt Campaign for Fair Food, Vanderbilt Students of Nonviolence, the Global Poverty Institute, Economic Empowerment Coalition, Vanderbilt Advocates for the Immigrant Community, the Black Student Alliance and Vanderbilt Student Government.
For more information about the Robert Penn Warren Center for the Humanities at Vanderbilt University, visit http://www.vanderbilt.edu/rpw_center/.  For more information about Vanderbilt, visit http://news.vanderbilt.edu.