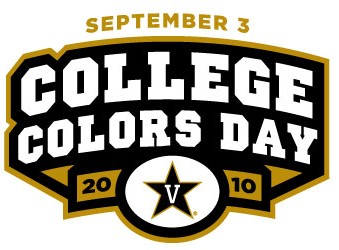 VU Bookstore to give away $200 prize package
All Commodore fans are encouraged to show their team spirit by wearing black and gold on College Colors Day, Friday, Sept. 3.
College Colors Day was established by the Collegiate Licensing Company six years ago to promote fan loyalty and enjoyment of back-to-school traditions across the country. This year College Colors Day takes place the day before Vanderbilt University's football season opener against Northwestern at Vanderbilt Stadium.
The Vanderbilt Bookstore is helping to promote this four-year-old campus tradition by offering fans the chance to win a $200 prize package of Vanderbilt merchandise. Interested individuals can go to the bookstore to register for the Sept. 3 drawing.
"We are pleased to join universities throughout the nation by participating in College Colors Day," Mary Ann Daniel-Kaszuba, marketing specialist with the Office of Trademark Licensing, said. "We hope Vanderbilt fans will go all out to show their Commodore spirit by wearing their favorite black and gold on Sept. 3."
Gov. Phil Bredesen has officially proclaimed Sept. 3, 2010, as College Colors Day in Tennessee.
To learn more about College Colors Day, visit www.collegecolorsday.com.