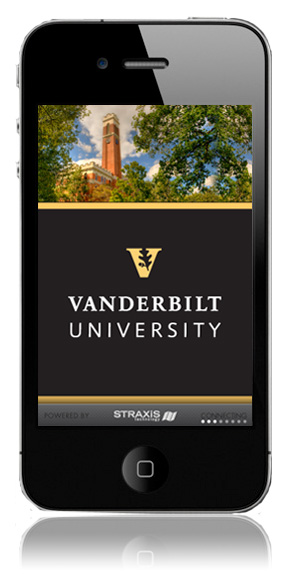 Vanderbilt University has launched a new free iPhone app to allow current and prospective students, faculty, staff, alumni, parents, sports fans and friends to easily access campus news, events, videos, photos and more from their iPhone.
The app is available in the iTunes App Store and can be found by searching for "Vanderbilt."
"Mobile devices are increasingly the way people get information, plan their day and navigate their world. This new app will help make Vanderbilt more accessible in this critical market," Beth Fortune, vice chancellor for public affairs, said. "The new app complements our existing iPhone website and is just the beginning in what we expect will be a tremendous area of growth over the next several years."
App features include campus news, events, campus map, athletics news, videos, photo gallery, campus weather, Vanderbilt's Twitter stream, links to top Vanderbilt Web resources, daily bulletins from campus news sources, key references such as VU A-Z, libraries, quick facts and history, and an admissions checklist for prospective students.
The new app joins existing Vanderbilt apps, built by members of the student organization Vanderbilt Mobile Application Team or VMAT, that offer calendar, dining and map information. Those apps are also available for free in the App Store and can be found by searching for "Vanderbilt."
The new app was built by Straxis LLC, a technology company based in Tulsa, Okla., and is managed by the Office of University Web Communications.
More information about Vanderbilt apps is available at: http://www.vanderbilt.edu/apps/.