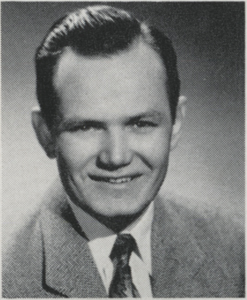 Website offers audio interviews and transcripts
World War II memories that include historic battles, hide-outs from the Nazis and campus war relief projects have been preserved through the Vandy Goes to War oral history project, which can be heard on the Vanderbilt University Libraries' website.
"Vandy Goes to War is one way we document the lives of men and women in the Vanderbilt community who either served during conflict or were touched by war while on campus," Connie Vinita Dowell, dean of libraries, said. "It's an honor to preserve and make accessible the stories of veterans and their friends and families. Their firsthand accounts reflect the nation's and the university's history at a critical juncture and will be excellent teaching resources for students and faculty."
The length of the interviews varies from about 15 minutes to an hour. Heartwarming stories of soldiers who were captured and later escaped as well as conversations with alumnae who remember campus life during the war have been recorded, according to Kathy Smith, associate director of Special Collections and University Archives. "Those on the home front recount the difficulties of being separated from loved ones and coping with food and gasoline rationing. Other memories are happier, such as the alumna who sang with the Francis Craig Orchestra that played at dances in the Old Gym. "
Among the war memories recounted is that of Dr. David James, who earned his B.A. in 1948 and M.D. in 1951. James was only 18 years old when he joined the Army and served in the division that helped liberate the prisoners at Dachau, a Nazi concentration camp. He talked about how shocking it was to see the grave condition of the people who had been held at the camp. "And one of the striking things I remember about Dachau is that the prisoners were just skin and bone, but they had gotten into the wine cellar after the German guards left, and they greeted us with a bottle of wine in each hand, even though they themselves were just skin and bones," James said.
The late James A. Webb Jr. was a graduate of the Class of 1947 who served as a naval aviator during World War II. Webb, who later served on the Vanderbilt Board of Trust, described first hearing the news that Pearl Harbor had been bombed.
He was in his dorm room at the old Kissam Hall when an excited voice interrupted the orchestral music on the radio and announced that the Japanese had just bombed Pearl Harbor. "[rquote]The moment was electric. Doors opened up and down the hall with everyone talking about the news, but nobody knew where Pearl Harbor was. But another thing was certain. All our lives had been changed. [/rquote]We were at war," Webb said.
These and other stories from the World War II era can be heard by going to http://vandygoestowar.library.vanderbilt.edu and clicking on the name of a project participant or war battle.
Now that the World War II interviews have been posted, Special Collections is putting out a call for Vanderbilt alumni who either served in the Korean War or were on campus during the years 1950-53. Smith noted that the Korean War was a time of large growth and change at Vanderbilt and the George Peabody College for Teachers. "A surge of students were attending college on the G.I. Bill, and societal rules and customs were just starting to be challenged," she said.
Special Collections would also like to encourage war veterans from the more recent conflicts in Vietnam, the first Gulf War, and Iraq and Afghanistan to record their memories and reminiscences. For more information contact Molly Dohrmann, manuscripts assistant in Special Collections and University Archives, at molly.h.dohrmann@vanderbilt.edu or call 615-322-2807.