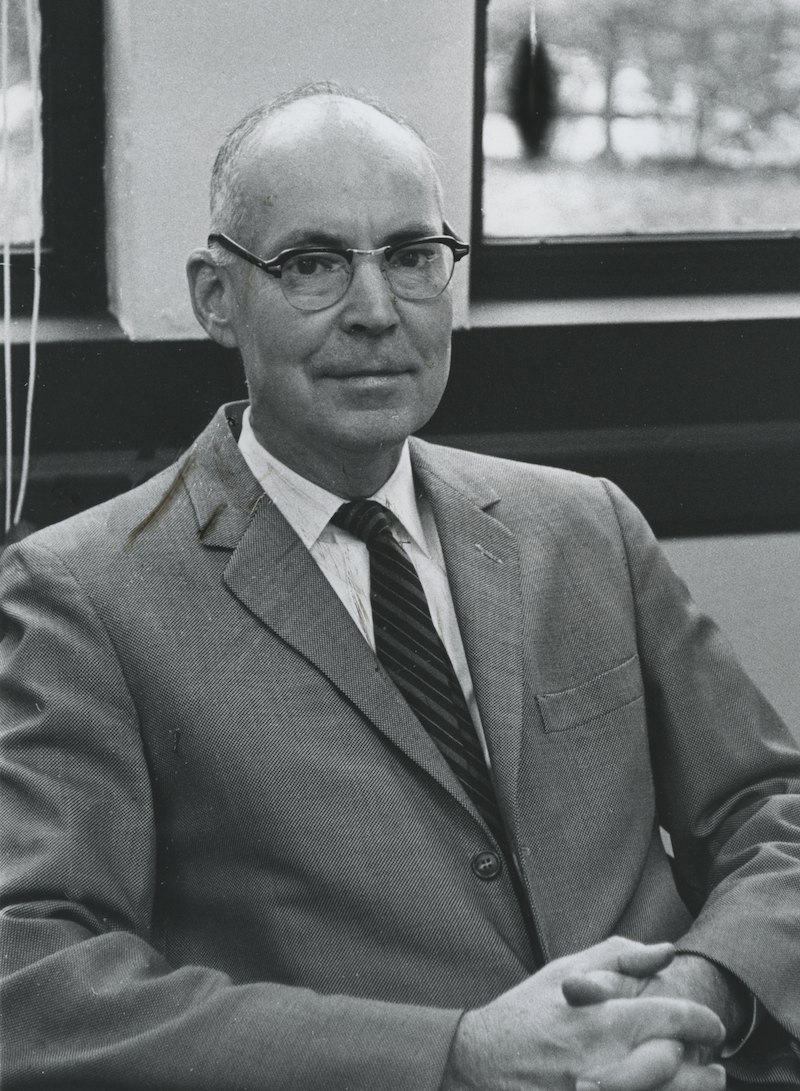 Paul Hoswell Hardacre, a retired Vanderbilt University professor noted for his expertise on the Stuart period of English history, died on April 10 in Pasadena, Calif., at the age of 94. The professor of history, emeritus, taught at Vanderbilt for 34 years.
"Paul Hardacre served Vanderbilt long and ably as a teacher, scholar and participant in numerous councils of the university," V. Jacque Voegeli, dean of the College of Arts and Science, emeritus, and professor of history, emeritus, said. "He chaired the Department of History from 1967-1970, a period of rapid growth. In all that he did, Paul displayed sound sense of purpose, conscientiousness, good judgment and fairness."
The Los Angeles native earned his bachelor's degree from Stanford University in 1937. He then enrolled at the University of California at Los Angeles, where he received a master's in 1940. His doctoral studies were interrupted by his Army service during World War II, where he received the Bronze Star, and his participation in the Allied Occupation of Japan. He later completed reserve service reaching the rank of lieutenant colonel.
In 1947 Hardacre earned his doctorate in history from UCLA. That same year he married Gracia Louise Manspeaker, also from Los Angeles, and became an assistant professor of history at Vanderbilt.
Hardacre taught and wrote extensively about 17th century British history. His published works included The Royalists During the Puritan Revolution and "Writings on Oliver Cromwell since 1929" in Changing Views on British History (Harvard University Press). He also focused on the life of Edward Hyde, the first Earl of Clarendon. Hardacre researched the large collection of Clarendon Papers in the University of Oxford's Bodleian Library to explain various aspects of his policies from 1640 to his fall from power in 1667.
Was Fulbright Scholar
Hardacre was a Fulbright Scholar (United Kingdom) and a Guggenheim Fellow in British history. Among the many university committees on which he served, he chaired the Committee for the Installation of Chancellor Heard. Hardacre received the Thomas Jefferson Award for distinguished service to the university and the Ernest A. Jones Award for dedication to advising undergraduates.
His professional memberships included the American Historical Association, the Southern Historical Association and the Conference on British Studies. Hardacre had a longtime interest in the Huntington Library, a private educational, cultural and research center with rare books and manuscripts in the fields of British and American history and literature, located in San Marino, Calif. He first registered as a reader at the Huntington (where he met his future bride) in 1939 and served on the advisory board (now editorial board) of the Huntington Library Quarterly from 1960 to 1986.
When Hardacre retired from Vanderbilt in 1981, he returned to Southern California and became a Huntington Research Scholar. He volunteered in the manuscripts department and produced an inventory of all of the Huntington Library's manuscript microfilm relating to British history. It continues to be used by current scholars. He and John Loftis co-edited Colonel Joseph Bampfield's Apology, which was published in 1993. Their collaboration resulted in a dramatization for television of Bampfield's life.
Hardacre was preceded in death by his wife, Gracia, who had earned her master's degree in library science at Peabody College while they were in Nashville.  They had two children – Helen Hardacre and Alan Hardacre. Helen earned both her bachelor's and master's degrees at Vanderbilt. She is the Reischauer Institute Professor of Japanese Religions and Society at Harvard University. Alan is a software engineer with Hewlett-Packard.
In accordance with Hardacre's wishes, there will be no public memorial service. The family requests that any memorial contributions be sent to the Huntington Library and designated for its manuscripts department.