Lessons Learned
Jun. 11, 2009, 3:34 PM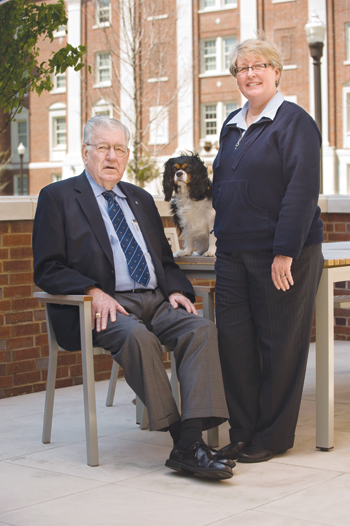 If you think your life is intense, consider this: I live in a house with 150 first-year college students. 
When The Commons, a residential community of students, faculty and professional staff, was introduced for the class of 2012, I jumped at the chance to participate in this innovative venture for a year. In my 34 years as a member of the Vanderbilt faculty, I have always been drawn to the idea of living—and learning–—side by side with students. Seeing the growth, exploration and discovery of every student is inspiring. I've picked up a few things, too. Here are my five greatest lessons learned from living for a year in a house of first-year college students.
Stay plugged in
One of the first things I did was to purchase a BlackBerry. To be a valued member of a community, you need to speak the language. I send more text messages in a day than any other 60-year-old I know. The music on my iPod has changed, too. There are more tracks by Beyoncé, Lenka and Yolanda Adams than there were before. Some of the most interesting conversations I've had with students have been about the Beatles. When I was 18, "Imagine" was a life-changing song. For my students now, some hearing it for the first time, it still is. Students are amazed I saw the Beatles' first live appearance on The Ed Sullivan Show. This always leads to discussions about Vietnam, the Civil Rights Movement and the role of activism today. 
Be present
I often sit in the Murray House lobby to work. I know the students and they know me—and we can be together. It just so happens they're writing papers, and I'm grading papers. To them, I have become more than a person who only teaches. Students see me living life—I wear pajamas, I can throw the football, I get up early and go to class, I share friends, family and colleagues with them, and I like my morning coffee on the patio with my dog, Pip, running in the upper quad. My dad, whom the students call "Pop," lives with me. It's comforting for them to have a grandpa in the house. I hope they also see how much I truly care about them. 
Pull an all-nighter
Since moving in, my daily clock has changed. For students, midnight to 6 a.m. is a social time to congregate at the campus market for snacks as a study break. The lines are so long, midnight feels like midday. Students ask me to go with them. They get potato chips, popcorn and cereal. I go for iced coffee—decaf. I have also learned that the prime time for students to have house council meetings, staff meetings and committee meetings is at 9:30 at night—this is a big change for me. The campus seems to never sleep.
Engage your community
I respect how these students strive to make a difference. One has a patent for a medical device; another student is a music composer at the Blair School of Music. Not only are they the brightest entering class at Vanderbilt, but they're also involved in tutoring, working in soup kitchens, serving physically challenged children, mentoring women who are just leaving prison and aiding immigrant communities. I sense this commitment to service is lifelong. How students connect because of these similar—and even different—interests is inspiring. Our house is engaged in service work with Mending Hearts and the Susan Gray School. Remember the first activity you were really passionate about? For me it was working as a tutor with a basketball program in Louisville, Kentucky, for inner city youth. I was convinced I was going to transform the city. I see the same passion here daily. The youthful exuberance and energy we all felt at 18 years old? It is alive and well at Vanderbilt. Trust me.
Always keep learning
Living in a shared community with first-year students has changed my perspective and added depth to my relationship with students. I strive to connect these young people to their university, encourage their enthusiasm and create a shared wisdom. We are all learners and, in a way, traveling on similar arcs in our lives. I have been at Vanderbilt for 34 years and I'm still asking, What's my purpose? What's next? So are my students. I'm seeing them at their life's launching pad. It's an incredible circle; I feel like I'm 60 years old—going on 18. 
My year living in The Commons has been remarkable. There are plenty more lessons I want to share—even more to learn. My responsibility to our students is to teach, to learn and to improve. Can I become better? I certainly hope so—I just signed up to live here again next year.