Media Inquiries
Latest Stories
Peabody doctor of education graduate Jonathan Eckert has been selected by U.S. Secretary of Education Margaret Spellings for a Teacher Ambassador Fellowship with the U.S. Department of Education. Eckert is a seventh-grade science teacher at Poplar Grove Middle School in Franklin, Tenn. His selection was announced by Spellings on July 10.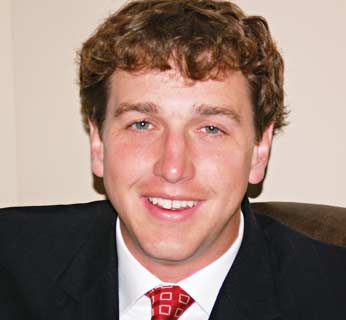 More than 1,000 teachers nationwide applied for the fellowships, which offer highly motivated, innovative public school teachers the opportunity to contribute their knowledge and experience to the national dialogue on public education. Eckert was one of 25 teachers selected for a fellowship and one of five who was selected as a Washington fellow. 
"Jon's selection as a Washington Fellow places him at the heart of what this program does best, which is to foster dialogue between policy makers in the Department of Education and teachers in the field," said Dean Camilla Benbow. "Jon's experience as a teacher, complemented by his training in educational leadership at Peabody, will surely make him a valuable asset to this program." 
In addition to teaching, Eckert serves as basketball and tennis coach at Poplar Grove. A teacher for 12 years, Eckert also founded and serves as director of Ultimate Sports and Science Camp, which focuses on inquiry-based science experiments and sports activities for middle school students. In 2008, he earned an Ed.D. from Vanderbilt in educational leadership and policy; his master's degree is in curriculum and technology-integrated instruction.